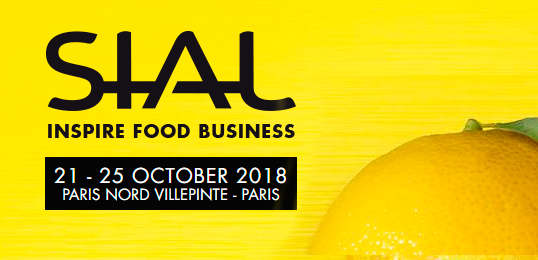 This autumn, the Paris edition of SIAL has been held, which is constantly strengthening its status as the world's leading food exhibition. The event was attended by an AgroTransilvania Cluster delegation made up of cluster team members and representatives of members working in the agri-food sector.
Although SIAL Paris 2018 has closed its gates, the ideas, insights and inspiration proposed by this year's edition will continue to resonate for a long time on Planet Food. The Paris-Nord Villepinte exhibition, the scene for SIAL Paris, was the five-day truly action-packed five-day event with ingredients, recipes and flavors, in a "French" atmosphere but with an international sensation. 5 days to provide the world's largest exhibition for Planet Food, food industry players and inventors, manufacturers, distributors, restorers and suppliers of semi-processed ingredients. "It is truly a global think tank for the food industry, the international food innovation lab in all its aspects," said Nicolas Trentesaux, SIAL Network Manager, on the opening day.
How has it been measured in concrete terms, the success of SIAL Paris 2018? First, in figures. More than 7,200 exhibitors - 87% outside France - and more brands than ever. It records participation, with over 310,000 industry representatives (73% of visitors from outside France). And among them, thousands of buyers and influences from all sides. "SIAL Paris offers a unique and comprehensive experience of worldwide food experience. For the sectors that are already today, along with those in the early stages, the young start-ups that will make news tomorrow in France, India, Canada, Brazil or elsewhere. It was a window of visibility for everyone, "said Nicolas Trentesaux.
135 official international visits, 250 event events, 2,355 innovations presented for SIAL Innovation Awards and 15 Grand Prix awards: "This year, we managed to set the even bigger bar again, to offer all professionals in the field a truly exciting event with many parties everywhere. " Over the course of the five days of the show, SIAL Paris has promoted over 400,000 products on an area equivalent to over 100 supermarkets, endowed from one end to the other! "It remains an event that keeps the human dimension, because it is food, after all!" Visitors only had to focus their eyes and tastes around the exhibition corridors to be convinced of it! Such a strong presence and impeccable investment of professionals are more needed today than ever, at a time when the agri-food industry is entering a major transition phase. Taste - True - Meaning: This was the inspired triptych of SIAL Paris 2018, illustrating the future scenario to which Planet Food and all stakeholders are transforming into a bold and engaging interaction. "This is a future that, without realizing this, we wanted at least to anticipate to provide real answers to professionals, so much in the movements of change: everything, in fact! Customer expectations for health, authenticity, transparency and food consumption have never been so strong, industry's responsibilities continue to grow and, to limit all of this, we will have 100 million people around the world fed into each year by 2050. There is no other sector in the world facing such challenges: no one else has that much in the game! "Insists Nicolas Trentesaux. So, what should be done? In 2018, even more than in previous editions, SIAL Paris has put an emphasis on innovation: in three aspects!
Innovation by Identifying Trends and Mapping Perspectives: The 2018 edition of SIAL Paris offered the opportunity to present the fourth part of the KANTAR TNS Food Food study in conjunction with the Future Food book of XTC World Innovation trends along with the study on food trends outside the house at the GIRA Conseil. Not only this, but also the future, has been illustrated by products selected in Foodtech's space, presenting the innovations of the entire French food chain. Ecotropia Europe has also provided another vision of tomorrow's food through a national and European food innovation competition: "Student Trophies for Food Innovation", a true incubator of ideas for the food industry. Finally, while respecting its commitment to "inspire and look deeper," the world's largest food exhibition has proposed, together with Future Lab, a new event dedicated to food forecasting. This was a real success with the audience during the five days of the show! An experimental tunnel, a "start-up growth" space and concepts of virtual reality: The Future Lab has allowed visitors to come to Planet Food in 2030. Innovation for SIAL Paris 2018 was also , about offering an exceptional showcase for original ideas and concepts that will soon hit the shelves in the grocery stores. Therefore, SIAL Innovation has promoted products whose justification and characteristics are perfectly aligned with this logic of the transition to a truth, taste and a greater sense. This has also been reflected in the Alimentary Sector and its Forum dedicated to this new healthy food that conquers the world and has won this year through the abundance of easy and yet indulgent innovations! Over the course of these five days, La Cuisine also offered a real culinary cocktail, especially with live culinary classes and an innovation theme dedicated to food service and conceived by SIAL 2018, chef: Yannick Alléno!
SIAL Paris was also about organizing as many fruitful meetings as stands, in forums, in corridors! Meetings that can lead to new associations, new success stories! We look forward to seeing ourselves again in 2020, taking our place and helping to build together the future of Planet Food!