Luna Solai, a tasty success story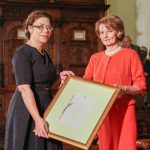 The oil producer marketed under the Luna Solai brand is one of over 40 members of the AgroTransilvania Cluster. We continue to present the success story of this agro family business.
Luna Solai is a brand of cold pressed oils that started from a small village in the heart of Transylvania, called the Moon, hence the name of the brand. The story of the producer of these oils began in 1998. The Tulai family workshop in Luna, Cluj County, produced cold-pressed oil more than a service for farmers in the area. People came with the sunflower seed and left home with the oil. In Autumn 2011, Felicia Tulai decided to give up her job in Bucharest, a multinational, to return home to take care of her family business.
The first year was launching the site and promoting the business. New product launches followed: walnut and rapeseed oil, international fairs and name promotion. Luna Solai started in 2012 from a single product, sunflower seed oil obtained by cold pressing and reached 2015 with 6 seeds and 9 oils (sunflower, pumpkin, walnut, rapeseed , hemp and aromatic pepper, thyme, basil).
The small family business has grown in value year by year, reaching almost 50,000 euros in 2014, double the previous year, according to data from the Ministry of Finance. One of the most important distinctions came on November 30, 2014, when the Luna Solai business was granted the status of a royal house provider in Romania.
"Members of the Royal Family of Romania have often proved to appreciate and promote local, indigenous products. Being a Supplier of the Royal House of Romania means an important recognition of the exceptional quality of Luna Solai's cold-pressed oils benefiting from the Royal Family of Romania. The quality of the vendor is conferred on individuals or companies who have supplied goods or services to the Royal House for at least one year is granted for a period of 3 years with the possibility of extension, "explained Felicia Tulai, Brand Manager Luna Solai.
At present, Luna Solai supplies the Royal House with all the product range, namely sunflower, pumpkin, hemp, rape, walnut and spicy oil.
Felicia Tulai has big plans for Luna Solai. In addition to traditional sales, brand-manager Luna Solai also has discussions with other big names in Romania and Europe for other supply contracts through its own online store, groceries, grocery stores or trade fairs in the country and abroad. At the same time, it plans to invest in a new production line. The last distinction received is the award of two Michelin gold stars from the Institute of Quality and Taste in Brussels. Read more about this distinction HERE.
Moldovan - Carmangeria Sannicoara, or family-trained craft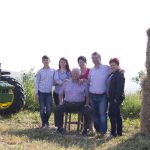 Moldovan Carmangeria Sânnicoara, one of the most important companies in the meat and meat products market in Cluj, is the living proof that family-trained craft, dedication and respect for the customer are those ingredients that build a sustainable business.
Established in 1994 by Stephen and Cosmin Moldovan, father and son, under the name Cosm-Fan Carmangerie, the company originally produced meat preparations according to traditional recipes in a small meat cutting and processing workshop in the yard of the family household. Authentic taste and product quality have resulted in a steady growth in business over time, a process that has expanded the workshop and opened its own stores.
To make things fit and better, the Moldovan family began in 2005 to invest in a cattle farm in Mociu. Here, in a healthy, balanced and natural environment, over 230 cows of the Charolais, Belgian Alb-Albus, Limousine and Angus breeds grow. The farm is currently undergoing a modernization process, investing 1.5 million euros on the basis of an EAFRD project.
In the years 2007-2008, the company was rebuilt from the foundations with the help of SAPARD funds, which especially in the modernization and technology of the production area. This investment has been the central pillar in the further development of carmangeria and has led to both the expansion of the network of shops and the number of employees and the diversification of the product portfolio.
That's how Moldovan Carmangeria Sannicoara has today 27 stores across Cluj and is in the top 100 of Cluj companies with 210 employees. The product portfolio of 120 assortments ranging from sausages, salami, smoked, ham, cremwurst to finely chopped marinades and freshly cut meat.
Last year, on the 20th anniversary of its existence, the Moldovan family business has gone through a complex rebranding process, bringing the concept of the meat shop into the 21st century. In the Moldovan stores, customers have the opportunity not only to buy carmanger products but also to taste them. At the same time, they are advised to prepare the meat or spices used. The desire of the Moldovan family is to revive the tradition of the old butchers and to take this craft further.
Sheep Farm of Professor Toma T. Mugea, a European success story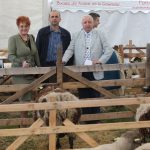 AgroTransilvania Cluster: How did you become a renowned physician specialized in plastic surgery to grow sheep?
Toma Mugea: When I started farming, I was out of service, so I can not say I was a surgeon. I was somewhere in the mountains, at a cottage, and there were several flocks of sheep in the neighborhood. I was friends with one of the shepherds, they came to visit me at the cottage, because I like to find them, I did three or four dishes in two or three hours and they felt very good. I stood at the candle, I was not there, I told them, I was going to them at the sheepfold and they were treating me with cheeses, eggs and what they had. I asked them how can I make you come to have a milking line? The rule there at Mărişel was that if you had four sheep, let your milking turn once in a summer sensory. So I bought four sheep. I never thought I'd make a farm, live four times, or multiply them. It was a show when it was time for us to go with my wife and children to participate. The stallock had 500 sheep, a good amount of milk. From the milk of our four sheep we have made the curd, we have made a curse. I started to go to the Gilau sheep farm, which is the first Friday of the month, and if we were more beautiful animals, we would buy them. That's how we came to a number of 25-30 sheep selected on the eyebrow. I left them in the care of one of my friends in Mărişel. By natural gain and by what I bought, 50 were made. Only my shepherd had to come to work in the city and he could not take care of my sheep. It was the moment when I woke up with 50 sheep and I felt close to the door to say: take them to you and do what you want, what I did not want to do and how I do not like to be tight with the door, I decided to keep them.
From four to two ounces of sheep 
I hired a shepherd who did not want to come except with his son. I made contact with them, so that the shepherds would not go anymore, and I would have no document to oblige them to respect a deal. Well, to have two shepherds paid by labor card and 50 sheep is stupid. And then I bought 200 sheep. That's how the whole adventure started. I bought a tractor, I bought a trailer. All winter I've been busy to go there all I needed. It was the month of May when the cows were done, and the milking and shearing of the sheep had to begin on the pasture. The two shepherds, father and son, said to me: 'Doctor, we do not come tomorrow, because we go to the woods, to work. I told them they had a contract that they had to respect. The answer was: do what you want. I went with a friend from Mărişel, we went to Salaj, we came to some Gypsies who stood in conditions you may see in India, in a village, in a marsh, in straw houses , with crinkles but parabolic to each glass. The shepherd Stelica, who says he worked with the Sibiu, came and the Sibiu is a very important business card. And he wanted to come only with their wife and their little girl for six months. After a two-hour negotiation with my boyfriend, he took them, put them in my car, and brought them up to Mărişel, in a cottage on the pasture. But this cottage was made of boards through which the wind passed, and the stove took half of the smoke inside. I left them with my heart tight there. So I decided to build a civilized home there. We started the construction, we started looking for water, but we did not find it. Someone was driving me to Cunpu that it would be a leafy lease there. The place was splendid. We ended up talking to the town hall and decided to move the throne there. I made a sheepfold for sheep, I made a shepherd's home with a sanitary group with everything she needed. That's how the whole story started, with no plans. They all forced me to go ahead. Every year we've done something. It's like a car, you do not only need steering wheel and wheel, you want to have a door to it. Now we try to be all in line with the active rules now in Europe. I said if we do it all, let's do that as a book, so we will not change things in two years. At the same time, we also worked on the flocks, meaning that if at the beginning we had a combination of sheep of several breeds and some sheep did not belong to any pure breed. Slowly, we came to have only a few Romanian jerks. I bought four to five years ago a bitch from Bistrita, a white turkey. I bought rams. And now I can say that I am crowded with the flock I have. We will also be in the Control Register to be recognized as owners of animals of controlled origin. Under these circumstances, the subsidy may be better, subsidy will also be granted on the quality of animal care. We did this for seven or eight years before European regulations came. Often the peasants say that the doctor knows that he has knowledge, but I did everything in his instincts. Now we have a milk processing line, a processing line, it's not a factory. There is a terrace, everything is fenced. You get into an enclosure, the walls are washable, can be easily disinfected, it's a cloakroom, a bathroom, then you pass through a small office where milk analysis can be done, it's the milk processing area. Then it's the area where the meat rolls in and the chill room continues. So there is a chain of rooms where this happens. There is nothing stainless, apart from the pipe through which the milk flows. The milk is poured into a funnel with filters. We do not use inks and pumps because it is a traditional product. We have presses that are driven by marbles that are made of marble, which will add to the desired squeezing. We do not use that snail system that applies unequal pressure. The boxes in which the cheese is squeezed are of maple wood. We have obtained this recognition as a traditional product, we have registered the Ijar brand as the telemea state in the cow, we have more denims reserved at OSIM, precisely in the idea that we want to diversify the production. We have a chicken pressed in cold pressed oil with various flavors, we have cheese. Surely, the amount of milk has been small in recent years, because it has been a year of drought, drowning, keeping lambs together with sheep, and then the milk for processing was less. So we have a limit on the amount of cheese, and we do not buy milk from someone else. Everything on the farm is bio certified. That is how we came and we are recommended to get the quality of the Supplier of the Royal House of Romania.
Where do you sell your products?
Our products are a little open, just for representation. We sell products under the Ijar brand in the AgroTransilvania Cluster store in front of the Auchan Supermarket at Iulius Mall and the Carrefour cluster stand in Polus Center. But, having no one to deal strictly with this, things go slower. We did not even work hard on this line because there were other priorities. Now we are also targeting the transylvanian lamb. We also managed to get an OSIM certificate. We want to create this brand of Transylvanian lamb meat because those who buy from Europe these lambs come from a certain area. Transylvania is also well-known by its virtues, and by the royal visits to the Great Birtania, so I have bet on this opening. What does transylvan meat lamb mean? It means a combination of turkey sheep and rams that can be German Black Head, Hampshire, Ile de France or anything else. The advantage is that it will be father's confession, but the taste of the products will be native, because these animals are not grained, they do not sit in savannahs that never see the sunlight, but they will feed peacefully on our meadows.
What are your plans for the future?
We want to help the 500 members of the Ijar Association, sheep and goat breeders to develop, to provide them with information to help them achieve their goals. We are now trying to obtain better conditions for selling lambs, to get cheaper prices. The moment you negotiate for 500 people is different. also depends on their seriousness that these contracts will be respected, to have credibility in the coming years. We also think about developing alongside Agro Cluster on the line of product sales in our own stands. The association wishes to have its own stand in which to dispose of its own dairy products or the meat of lambs slaughtering.
Can you live well from such a farm and from this activity, of the sheep?
It's very hard, but you can live. Family work is very important. The four people now working on the farm are a family, three brothers, and one of them is with his wife. From four attempts we have reached these experienced people, with animal love, I have full confidence in them, they have given me the time to finish other projects. In the future, we will get preferential contracts for association with countries like the ones in the Middle East and deliver frozen, not frozen meat, that is, slaughter in the country and send the carcasses.
Emil Turdean, the farmer from Cluj, between the classical agriculture and the American-style grass sowing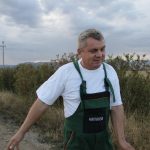 He started farming in 1994, together with an associate, but since 2004 he has started the company S.C. Agro Turdean Impex SRL, based in Badeni, Cluj county. Emil Turdean is considered one of the largest farmers in Transylvania. But he does not want to be the greatest farmer, but the most efficient. To this end, they document, learn from others, test new technologies, then apply them wherever they need. SC Agro Turdean Impex SRL is one of the core members of the AgroTransilvania Cluster.
Emil Turdean was, until 1994, a locomotive mechanic at the Cluj Depot. He decided to do the agriculture after he was handed over to his parents in Badeni, in the Moldavian area, Cluj County. Through its firm, Agro Turdean SRL, Emil Turdean works a total area of 700 hectares of land on the Aries Valley. Most are grown with cereals, and soybean - 400 hectares. Another 130 hectares are cultivated with sugar beet, and 50-60 hectares are grown with potatoes. Emil Turdean also produces other tens of hectares, wheat, sunflower, soybeans and onions. He also has a cattle farm that will soon reach 400 heads. He has obtained several ISO 9001-2008 quality certificates for leguminous crops, olives, technical plants, potatoes, landscaping, landscaping and watering.
How does grass grow on the edge of the highway?
If you've ever wondered why grass on the edge of highways greener green and resembles English, then you find it a "secret of manufacturing." A "green" Transylvania Highway, but also the bypass ring of Cluj. Farmer Emil Turdean has learned to do so from the Americans and the Dutch.
Between 1998 and 2002 he received training courses in the Netherlands, financed by the government of these countries, in the agricultural technical field. He then went to specialization in the United States of America. "That's where I learned the hydrosiding system, that is, the water purification system. Know that the Americans do not play nature and, whenever they have the opportunity, every square meter makes it green, "says Emil Turdean. This water system is mainly used in industrial, not residential. "It's expensive technology, because raw materials are expensive. In principle, such breeding is done by injecting a solution into the ground, "the farmer explains. The success rate in using this technology is 75-80%, depending on the soil quality and the weather conditions. "It's like a workshop discovered: depend on weather," says the entrepreneur. Also from the Americans he learned the ecological principle of doing agriculture, namely the use of a minimal soil processing technology that better protects the environment. "I am open to everything new in the field of agriculture," the Transylvanian farmer said.
Sursa foto: citynews.ro
Text: Bianca Padurean, Transilvania Business